RIVER CRUISES AND PACKAGES
Luxury and history, in the same trip.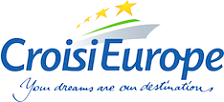 Imagine yourself dining first class French cuisine while sailing down a glittering river, beautiful landscapes passing by. Quaint villages on ancient hillsides, soaring castles and fortresses, history everywhere you look, from the sun-drenched olive groves to lush vineyards to snow-capped mountains, CrosiEurope, our partner in luxury river cruising and Europe's largest and most experienced river cruise line, has it all. Crown Peters has the pick of a fleet of 30 ships for our vacationers in France, Italy, Spain, Germany, and Belgium.
---
Stunning vistas and exceptional experiences.
River cruising isn't just the best way to travel to many of the world's most fascinating places – it's also comfortable and convenient. River cruising offers you a greater variety of destinations than you could encounter any other way, often possible in the same trip, and it provides you in-depth exposure to the culture and history of every place you go. Crown Peters knows that both experienced and first-time river cruisers have discovered the joys of travel in this manner.
Convenient and picturesque.
So many amazing cities have developed along waterways for centuries – Paris, Vienna, Moscow, all created to be accessible by river. Ocean cruisers must disembark at ports and then take additional transportation into key cities, waste precious time checking in and out of hotels, picking up rental cars…all these inconveniences are swiped away when you take a luxury river cruise.
See cities around the world.
Though Crown Peters has been offering amazing river cruising deals for half a century, river cruising is enjoying a huge increase in popularity. Travelers are beginning to realize that it's an efficient and affordable way to see the best, most inspiring scenery in the world. Every river cruise destination is different, and so is the itinerary, so whether you're visiting stately cruises on the Rhine or shopping in Budapest, river cruising takes you up to the front door. Contact one of your experienced travel professionals today to book your luxury river cruise.