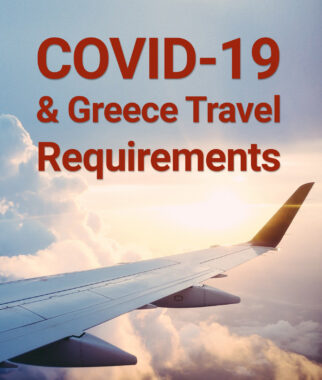 COVID-19 Entry and Exit Requirements for Americans Visiting Greece
Last Updated 5/11/21
The U.S. Embassy in Greece has released information regarding the entry and exit requirements for American tourists visiting Greece during the COVID-19 Coronavirus pandemic.
If you are traveling to Greece, the Greek Government is requiring you fill out a Passenger Locator Form (PLF) 48 hours prior to departure. https://travel.gov.gr/#/
This is very important per your entry into the country.
Entry and Exit Requirements:
Are U.S. citizens permitted to enter? Yes

Greece will currently only allow EU citizens, EU residents, and residents of certain other specific countries to enter.  As of April 19, residents of the United States are now allowed to enter Greece.  However, significant movement restrictions and other COVID-19 prevention measures still apply. Review requirements for transit countries prior to travel as well. 
All travelers who are eligible to enter Greece must complete the online Passenger Locator Form (PLF) at least 48 hours before entering Greece.  See the Greek Ministry of Foreign Affairs post on procedures for international arrivals.  Travelers with connecting flights to Greece report overnight delays for failing to fill out the PLF prior to travel.
All Greek citizens and permanent residents must now submit a PLF prior to departure as well.
Once you start filling out the PLF form, you are given the option to select arrival or departure.  For any questions regarding this form, the Greek Government has instituted a PLF Hot Line at +30-215-560-5151, available Monday to Friday from 9:00am to 5:00pm in English and Greek.
Is a negative COVID-19 test (PCR and/or serology) required for entry?  Yes, in most cases
All travelers entering Greece are required to present a negative molecular test result (PCR test) for COVID-19, performed up to 72 hours before their entry to Greece.
Fully vaccinated individuals who are residents of the U.S., EU, and certain other countries may enter Greece without a PCR test if they present a vaccination certificate.  The vaccination certificate must be in English, issued by a public authority, and demonstrate that vaccination was completed at least 14 days before arrival to Greece.  However, PCR tests may still be required for transit points.
Refer to travel.gov.gr for detailed information on PCR test requirements for entry to Greece and vaccination certificate requirements.
Source: For more information and updates, please visit the U.S. Embassy website here: https://gr.usembassy.gov/covid-19-information/
---
Contact Us For Any Questions
We want to let our clients know we are operational. If you require assistance during our normal business hours, please contact us at 718-932-7800. During non-business hours, you can message us online and an associate will assist you as soon as possible.