Crown Splendor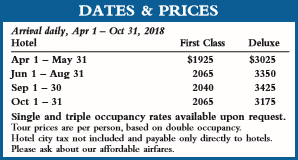 Day 1: Rome
Meeting and assistance upon arrival and transfer to the hotel. Balance of day at leisure to explore the "Eternal City".
Day 2: Rome
Morning at leisure. This afternoon tour ancient Rome's major sights and skip the line for the archaeological areas. Inside the imposing coliseum breath the bloody past of the amphitheatre and its atmosphere lead by a passionate and expert guide. Admire the splendid Arch of Constantine and climb the Palatine Hill and walk on the legendary Via Sacra or "Sacred Way". (B)
Day 3: Rome
This morning enjoy a guided visit of the Vatican Museums with its ancient Greek sculptures, medieval tapestries and Renaissance paintings, the Sistine Chapel with the ceiling paintings of Michaelangelo and The Last Judgement. Continue to the Basilica of St. Peter and see the Pieta. Afternoon at leisure. (B)
Day 4: Rome – Sorrento
Transfer this morning to Termini station for the train to Naples. Upon arrival transfer to the hotel in Sorrento. Remainder of day at leisure to enjoy the "land of colors". (B)
Day 5: Sorrento – Pompeii
The half day tour today will travel along the Bay of Naples to the foothills of Mt. Vesuvius to the ancient Roman town of Pompeii. Walk past the patrician homes, public baths and commercial districts of this remarkable archaeological site. (B)
Day 6: Sorrento – Amalfi Coast
A full day excursion to one of the Unesco World Heritage Sites for its undisputed beauty and the uniqueness of its natural landscape – the Amalfi Coast. Visit Positano – the pearl of the Divine Coast, Amalfi – the first of the four Maritime Republics in Italy and Ravello with its breathtaking view from 350 meters above sea level. (B)
Day 7: Sorrento
Enjoy a day at leisure strolling around its wonderful villas built by the Roman emperors on its coasts, go to the historical center to see the Museo-Bottega della Tarsia Lignea located in a palace of the 18th century to see fine examples of the great craft tradition of inlaid wood, or sit back and relax at a café to enjoy the magnificent landscape of Sorrento. (B)
Day 8: Sorrento – Naples
Transfer to Naples airport this morning.