ITINERARY​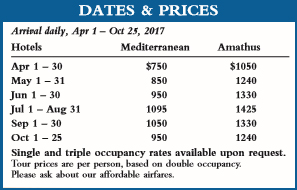 Day 1: Larnaca – Limassol
Transfer upon arrival in Larnaca to Limassol. Day at leisure to enjoy this vibrant seaside town.
Day 2: Limassol – Troodos
Mountains & Kykkos Monastery Depart today on a full day tour to the Troodos region, halfway between the towns of Nicosia and Limassol, Troodos boasts majestic scenery, quaint villages and rich Byzantine heritage.
The Kykkos Monastery, the most famous and richest monastery in Cyprus was founded in 1100 and dedicated to the Virgin Mary. (B)
Day 3: Limassol – Paphos
This morning depart on a full day tour to Paphos – birthplace of Aphrodite the Goddess of Love. First stop – the House of Dionysos with its stunning mosaics, then pass by the Odeon amphitheatre, St. Paul's pillar and the Byzantine castle of forty columns. Arrive at Paphos harbor with free time for a stroll along this picturesque port before returning to Limassol. (B)
Day 4: Limassol
A full day at leisure or take an optional tour to the capital city Nicosia and the picturesque village of Lefkara. Included visits are the Cathedral of St. John housing some outstanding frescoes and the Cyprus Archaeological Museum with a priceless collection of Cypriot antiquities. Discover the city's excellent shopping center and lunch at Laiki Yitonia, a 19th century quarter restored to its former glory with houses, shops and tavernas lining cobbled streets. Continue to Lefkara famous for its silverware and intricate handmade lace. (B)
Day 5: Limassol
A day at leisure or take an optional tour to Larnaca and Agia Napa. Visit the Church of St.Lazarus built over the tomb of the Saint then continue on to Agia Napa via Derynia and Paralimni villages and from a distance there is a view to the ghost town of Famagusta. At Agia Napa visit the medieval monastery. (B)
Day 6: Limassol
A day at leisure and time to explore Limassol Castle which contains the Cyprus Medieval Museum, the Folk Art Museum which is housed in an old mansion or visit the lush Municipal Gardens or just stroll along the 10 miles of beautiful beaches – anytime of year – that's one of the beauties of Cyprus! (B)
Day 7: Limassol – Larnaca
Transfer to the airport.