AEGEAN I ITINERARY​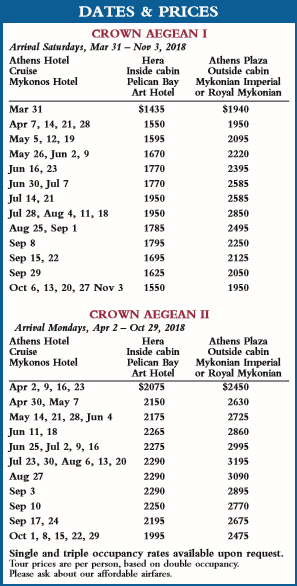 Day 1, Sat. Athens
Meeting and assistance upon arrival and transfer to the hotel. The remainder of day is at leisure.
Day 2, Sun. Athens
Enjoy a morning sightseeing tour of the capital's classical sights which includes the fascinating Acropolis with its majestic Parthenon rising above the city and the Acropolis Museum. Drive past the Tomb of the Unknown Soldier, Royal Palace, Panathenian Stadium, and the Temple of Olympian Zeus. Remainder of day at leisure. (B)
Day 3, Mon. Athens – Piraeus Cruise: Mykonos
Transfer to Piraeus harbour to board the cruise ship for passage to Mykonos.
Upon disembarkation transfer to the hotel. Overnight Mykonos. (B, L)
Days 4, 5 & 6, Tue., Wed. & Thur. Mykonos
Three full days at leisure to explore the island known for its fantastic beaches and exciting nightlife. Stroll the narrow picturesque streets, visit one of the many chapels and save one day to visit the sacred island of Delos, birthplace of Apollo and Artemis. (B)
Day 7, Fri. Mykonos – Cruise
This evening transfer from the hotel to the cruise ship. (B, D)
Day 8, Sat. Cruise: Samos – Kusadasi – Patmos
This morning's first call is at Samos.
Explore the historic harbor of Vathi with its neoclassical buildings on winding streets. In Pythagoreion walk along the harbor with its brightly colored fishing boats and trendy cafes.
Ship will continue to Kusadasi (for those wanting to visit Ephesus).
Visit the largest and best preserved ancient city founded by the Athenians (ship returns to Samos to pick up passengers). This afternoon sail to the sacred island of Patmos where St. John lived and wrote the Book of Revelations. (B, L, D)
Day 9, Sun. Cruise: Crete – Santorini
This morning's call will be at Heraklion, the capital of Crete and home to the Palace of Knossos and the seat of ancient Minoan culture. Santorini – fabled to be the lost continent of Atlantis. Visit the charming and romantic old world village of Oia. (B, L, D)
Day 10, Mon. Cruise: Piraeus
Cruise ship returns early this morning to Piraeus harbor. Transfer to the airport upon disembarkation. (B)