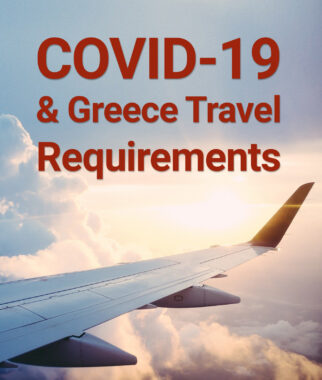 COVID-19 Entry and Exit Requirements for Americans Visiting Greece in 2020
The U.S. Embassy in Greece has released information regarding the entry and exit requirements for American tourists visiting Greece during the COVID-19 Coronavirus pandemic in 2020. They have outlined a timeline detailing what travel will and will not be permitted, including rules about mandatory quarantines. Based on the following information, we recommend to all of our clients traveling to Greece to take a COVID-19 test 3 days prior to departure. You may receive another test at the airport in Greece, but having results prior will give you peace of mind.
Masks or facial covers are mandatory in all public transportation and medical centers (taxis, elevators, hospitals), and are recommended in supermarkets, hair salons, and other enclosed spaces. Restaurants and coffee shops are open, and seasonal tourist accommodations will open on June 15. Social distancing measures are in effect until further notice.
Please read the information below carefully, which comes directly from the US Embassy's website.
June 15 – June 30, 2020
Entry and Exit Requirements: Greece, along with other EU member states, is limiting entry to EU citizens and residents until July 1. Non-EU citizens are banned from entering Greece for non-essential travel, which includes tourism. Exceptions include spouses or minor children of EU/Schengen nationals, long-term residents, members of government delegations and passengers in transit. Contact the nearest Greek Embassy or consulate for any clarifications and consult with your airline regarding any documents they may require to board you.
Quarantine Information:
The Greek Ministry of Foreign Affairs published updated travel guidance on June 15. Travelers should be prepared for the possibility that additional travel restrictions could be implemented by the Greek government with little or no advance notice. Contact the closest Greek Embassy or consulate prior to travel or consult directly with the airport if you have questions not addressed on this page.
If you are an EU citizen or a non-EU citizen who meets one of the travel exceptions under Exit and Entry Requirements above, the following applies: if your travel itinerary includes an airport on the European Union Aviation Security Agency (EASA) affected area list or is from Italy, Spain, the Netherlands, Sweden, Albania or North Macedonia, you will be tested upon arrival. An overnight stay is required either at a designated hotel or a hotel of your choice in Athens or Thessaloniki. You do not pre-book or pay for the hotel. You are escorted off the plane to fill out a tracing form, receive a throat swab COVID-19 test in a booth in the arrivals lounge, collect your luggage and board a bus which takes you to the designated hotel where you must remain until the test results arrive the next day. If the test is negative, you are released and permitted to travel to your final destination without quarantine restrictions. If the test is positive, you are quarantined under supervision for 14 days.
If your travel itinerary does not include an airport on the EASA affected area list, you are subject to random tests upon arrival. Travelers are recommended to self-isolate in a hotel of their choice and at their expense until the test results are available the next day. If the test is negative, you may continue your travel without quarantine restrictions. If your test is positive for COVID-19, you will be under supervised quarantine at a designated hotel for 14 days.
As of July 1, 2020
Entry and Exit Requirements and Quarantine Information: The Greek government is expected in the coming weeks to announce additional restrictions regarding certain countries effective July 1. We will update this page when the information is available. We cannot answer questions regarding travel on or after July 1 at this time.
We received reports that recent international flights arrived full with minimal social distancing. If this is a concern, contact your airline prior to travel.
No particular documentation to enter/exit Greece is needed at this time.
Source: For more information and updates, please visit the U.S. Embassy website here: https://gr.usembassy.gov/covid-19-information/
---
Contact Us For Any Questions
We want to let our clients know we are operational. If you require assistance during our normal business hours, please contact us at 718-932-7800. During non-business hours, you can message us online and an associate will assist you as soon as possible.